By Samantha Burns
Your bathing suit is packed away and your summer vacation is long gone, but the passion that comes with summer love doesn't have to end. In fact, some would argue that fall is really the most romantic time of the year, especially when it comes to unique date night ideas.
Sure, summer may be a time for short-lived flings and steamy hookups, but fall marks the beginning of cuffing season, after all. When the days get shorter and the nights get cooler, it seems like everyone suddenly finds themselves ready to cuddle up and settle down.
---
---
Fortunately, whether you've been happily cuffed all summer or you've just started priming the one you're planning to bring home to your family for the holidays, fall is chock full of plenty of fun and romantic date night ideas. And yes, they'll look great on your Instagram too.
Get ready to spend the next few months filling your friends' feeds with photo after photo of you and your boo in matching flannel. You know, couple goals.
Luckily, we already did the hard work for you. We did our research — literally — and put together the perfect fall date itinerary. Whether you're headed out for a first date or have been married for years, these fall date ideas are the perfect way to celebrate the seasonal weather and get that lovin' feeling. That's because each one of these date ideas is supported by science! (We're nerds, we know.)
WATCH: How To Make Date Night Extra Romantic
As a couples therapist and dating coach, I help couples increase their relationship satisfaction by implementing a more strategic dating life. Capitalizing on love research to get the most out of your date night is a surefire way to have a hot and thriving love life.
So, if you need more romance in your relationship and are stumped on finding new activities, try one of these seasonal date ideas — brought to you, in part, by science.
1. Leaf peeping
Photo: weheartit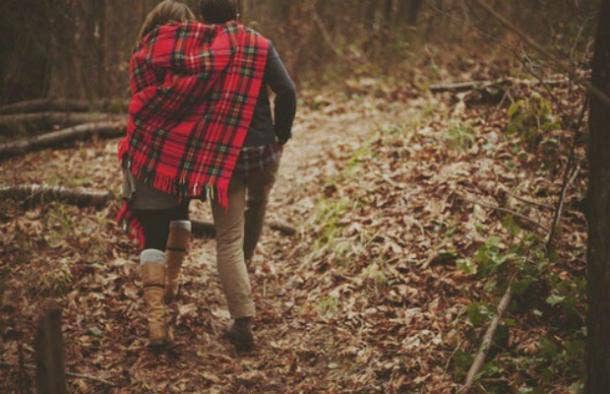 Ogle the bright red, yellow, and orange leaves as you stroll hand in hand through a local park, or better yet, go on a hike that gets you out of the city and into nature. Exercise and exploring the unknown activates the pleasure system in your brain and releases dopamine, the chemical that gives makes you feel good and exhilarated.
2. Apple picking
Photo: weheartit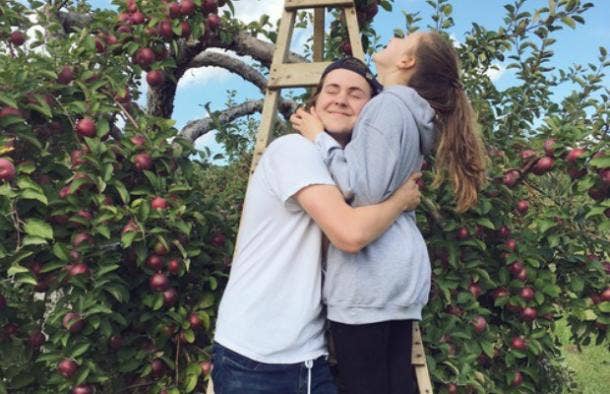 Pick a sunshiny beautiful day to frolic in the orchards together, canoodle behind a tree, and help each other reach the highest bunches. Plus, sunlight makes you happy, so soak it up before you go into winter hibernation mode.
---
---
3. Pumpkin carving
Photo: weheartit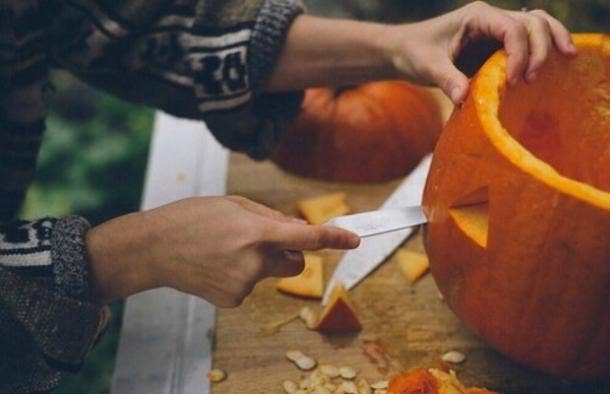 You may be too old to go trick or treating, but you're never too old to carve a pumpkin! Enjoy a little flirtatious competition: whoever creates the best pumpkin masterpiece wins something (wink wink)! Plus, being creative allows you to relax, and activates parts of the brain associated with emotional responses and the release of dopamine.
4. Haunted house
Photo: weheartit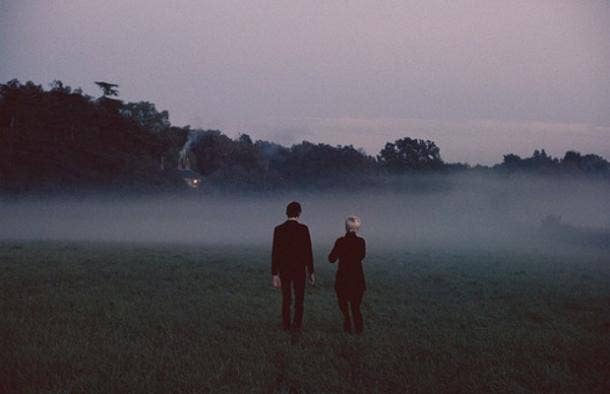 5. Corn maze
Photo: weheartit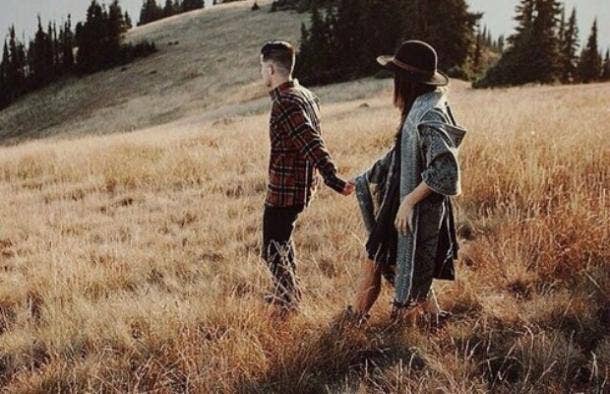 This is the perfect opportunity for teamwork! Does your partner listen to your ideas, get angry when you wind up in a dead end, or praise you for your great sense of direction? Negative communication patterns, such as criticism or defensiveness have been shown to lead to breakups and divorce, so make sure you support each other.
6. Cozy picnic
Photo: weheartit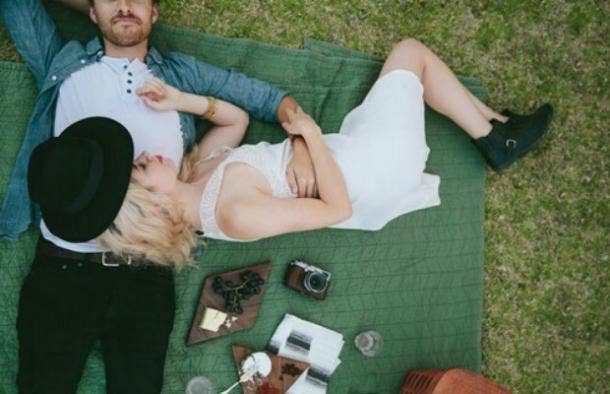 Bust out the basket and plaid blanket! Just make sure to touch or snuggle up as you enjoy your wine and cheese. Physical touch is not only a popular love language, but it's also a way we communicate our emotions, such as love, gratitude and happiness.
7. Halloween costume shopping
Photo: weheartit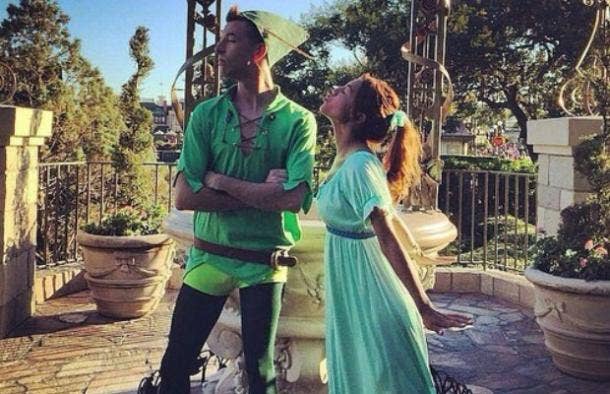 Head to a costume shop or thrift store and laugh together as you try on some whacky outfits. Laughing and smiling cause the brain to release dopamine, making you feel happy. Plus, eHamony found that a sense of humor is the most desirable quality in a partner, so let lose and reconnect. You may just feel the same spark that initially attracted you to each other.
Ultimately, boredom is the silent relationship killer. Prioritize your partner, date your mate and take advantage of all of the fun activities the fall season has to offer. There are so many creative ways to boost connection, intimacy and happiness in your relationship. Just remember you have to mix things up to (pumpkin) spice things up!
---
---
Samantha Burns is The Millennial Love Expert, and a Relationship Counselor and Dating Coach at LoveSuccessfully.com. She is an author and contributing expert to multiple national websites, where she tackles all things love: breaking up, dating, increasing relationship satisfaction, and infidelity. Follow her on Facebook and Instagram.
8. Wine tasting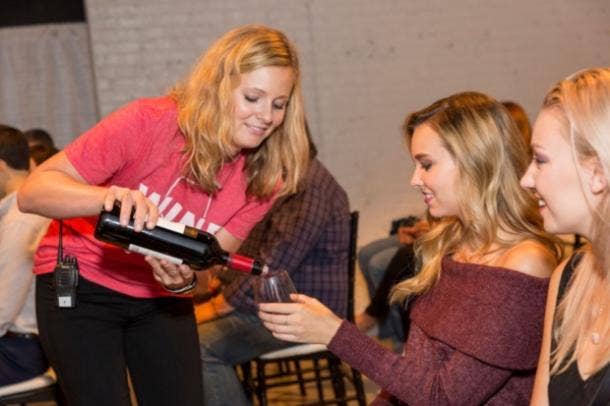 Wine tasting is basically just a classy, judgment-free way to go day drinking, need we say more? Enjoy a relaxing day sipping through whites, reds, and rosés, and bring home a bottle of your favorite for later. It's no secret that a glass or two of wine will get you both feeling happy and relaxed, and many wine tastings are held at gorgeous vineyards and other lush venues that make for a romantic date spot. Check out the Chicago Wine Riot this fall, which offers tastings and wine crash courses. There's also a photo booth to take cute pictures together, and you'll even leave with a souvenir glass to remember your date by.
This article was originally published at Brides. Reprinted with permission from the author.