Photo: someecards.com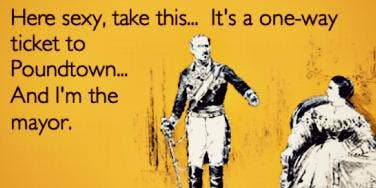 Need something to send to the person you're dating/cohabiting/banging? Look no further.
Maybe greeting cards were the original GIFs. Maybe pithy copywriters know more about relationships than anyone with a slew of letters after their name (PhD, LMFT, DDS). Maybe we laugh because the only other option is to cry.
Whatever the case, a good, single-serving written joke has the ability to make anyone's day slightly better — even John Waters and that guy who NEVER stops smiling.
At any rate, here are 15 relationship-y greeting cards ranging from funny sayings, to cringe-worthy, to sexy, to never-want-to-think-about-sex-again-y. Yes, the writers at SomeECards are total geniuses. They've really cleaned up in the age of the Daguerrotype.
Yep, it's one of those lists:
1. I have a surprise for you...
Wait until you see it ...
2. Would you be more comfortable WITHOUT clothes?
Scientifically speaking, you're more lovable if you're naked. Someone really must like you to love you clothed.
3. Moisture is the essence of wetness
Yes, women (and some discerning men) are predisposed to vomiting at the word "moist."
4. A question that kept LMFAO up at night
Quite a scary thought, don't you think? We're going to look back in 50 years and say, "Yeah, maybe LMFAO wasn't asking the tough questions after all."
5. Elf On The Shelf is one creepy motherf*cker
I can barely watch TV with that weasel watching, let alone make it rain.
6. That nurse is Ratchet
Well, that fantasy is officially dead. Thanks?
7. It's harder to miss someone in your refractory period
Yeah, I know it's 4AM but I really, REALLY miss you.
8. Come for the BDSM, stay for the misspelled words
Does sending this put you on a FBI watch list?
9. Either this is exactly on time or around 12 months too late
Photo: NobleWorksCards.com
10. Your weird aunt might like this
I like how they put an old joke together with one that's completely played out. I wonder what this card's referencing? It's probably not what we think it is ...
11. Calling all carpentry lovers
I think this sums things up nicely. It's like they combined the simplicity of a nail with the complexity of "me." Great work, Shakespeare.
12. Keeping it classy
Whoever said there was no such thing as a free, one-way ticket to Poundtown?
13. I guess I'll ask if you want to be held, then
Seasonal affective order is only kind of something to joke about. I hear that, sister.
Previous
Next
BEGIN