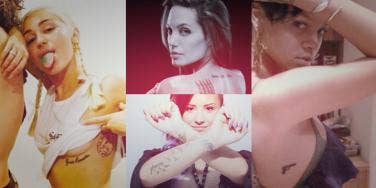 Hollywood has its fair share of inked ladies — stunning female celebs with tattoos.
Grease has its Pink Ladies: the group of badass girls we all wanted to be at one point in time. Well, Hollywood has its Ink Ladies: the group of totally awesome women in Hollywood with some permanent ink.
There are lots of tattooed celeb mens out there, but the men are evenly matched by their female counterparts. There are equally as many gorgeous female celebrity tattoos to fawn over.
Frankly, many of them have multiple tattoos as well, proving that one-off tattoos are not the trend or the norm for females just because they are famous.
If you're looking for the best tattoo ideas, you can start with Angelina Jolie and Megan Fox on the actress side, and then count down to Rihanna and Lady Gaga on the pop star side and beyond. These lovely ladies are all decorated with tattoos and artwork that has deep meaning and that defines periods in their lives.
---
---
Tattoos are a way for us to show the world how much something means to us. Some of us who have tattoos have deep meanings behind them. Tattoos dedicated to passed loved ones, alive loved ones, our favorite song lyrics, book passages that mean a lot to us, and so on.
But tattoos can also be whatever you want them to be. If you want a slice of pizza tattooed on your forearm, go for it. Tattoos are simply a permanent form of art.
While not all of the tattoos are the most beautiful things we've ever seen, since you can't be tattooed and not be the victim of at least one bad piece, the female celebrity tattoos in this list are indeed beautiful.
---
---
Many years ago, tattoos were reserved for ladies of the night or of a certain character or class level, but they are much more commonplace and accepted in today's society and the trend seems to keep growing.
Why tattoos were even considered inappropriate in the first place is insane. If your tattoo isn't offensive and doesn't have any inappropriate wording on it, why should your boss care about what's tattooed on your wrist?
In recent times, we often get our inspiration and ideas from celebrities. But why stop at clothing and hair styles? These ladies with fashionable ink can inspire us to go out and get that tattoo we've been dying to get but were always too afraid. If you're looking for tattoo ideas, let's peep these stunning female celebs with body art, shall we?
---
---
Lady Gaga
Mother Monster recently added a tattoo celebrating her signature monster paw, which lives among other pieces on her back, side, and shoulders.
Christina Perri
Christina Perri, known for her heartfelt ballads, has lots of randomly placed tattoos on her arms, Amy Winehouse-style.
Audrina Patridge
Audrina Patridge's reality TV co-star Lauren Conrad isn't the type to tat, but Audrina has a significant piece on the back of her neck which can be shown off via an updo or hidden when she wears her hair down. Win!
Lena Dunham
The Girls guru has a big piece on her arm and her back. They are commitment pieces that come from a brainy place, even if they do look a bit scribbly.
Victoria Beckham
The designer and former Spice Girl isn't nearly as inked up as her hubby David, who boasts sleeves and chest pieces, but she does have a few, like this etching on her back and the one on her wrist.
Cara Delevingne
Cara Delevingne has a beautifully maned lion on her finger, among other things.
Megan Fox
Megan Fox followed Angelina Jolie's lead with tattoos, adding a bunch to various places on her body, like this King Lear quote in script. It reads: "We will all laugh at gilded butterflies."
Alyssa Milano
Alyssa Milano has a rosary on her back, which can be seen or hidden at will, depending on clothes and hairstyle.
Drew Barrymore
Check out the actress' ankle ink and those bangin' hot pink pumps.
Jenny McCarthy
Jenny McCarthy has a floral piece on the top of her foot. Garden-y!
Kat Von D
Kat Von D is a celeb tattoo artist who specializes in portraits, so of course she's covered with tattoos all over her arms, legs, face, neck, and, well... body.
Margaret Cho
The comedienne has a bold, bright half sleeve, among other pieces.
Rita Ora
Singer, actress, and fashion plate Rita Ora has lots of tattoos, but this ballerina is so beautiful that we felt we just had to spotlight it. It's as gorgeous as Ora, known for her platinum locks and red lips.
Miley Cyrus
The wild child of Hollywood has well dozens of tattoos. Miley Cyrus added the phonetic spelling of "beauty" to her arm, a tattoo she shares with her male assistant. #Bonding.
Dev
Pop singer Dev is a mom and the owner of a lot of tattoos, sprinkled all over her arms. Are you seeing the trend? Tattoos are an extension of a creative person's artistic nature.
Cassadee Pope
The former winner of The Voice has a distinct and very visible piece on her arm.
Demi Lovato
Like her fellow former Disney pal Miley Cyrus, Demi Lovato collects tattoos, like these birds on her forearm and the cross on her hand.
Cher Lloyd
The adorbs British singer has lots of tattoos on her arms, since her style is a mix of edgy, rock 'n' roll, and sexy.
Rihanna
Rihanna loves getting tattooed, and she has plenty of statement pieces, from the one on her hand, which mimics a glove, to the underboob/between boob piece. She has tattoos on her neck, chest, and beyond.
Angelina Jolie
The mom of six was one of the first A-list starlets to popularize tattoos. She had a lot of tattoos and they weren't small or fleeting, either.
Nicki Minaj
Nicki Minaj has very visible characters on her arm. They are simple, which is a nice contrast to her wild wigs and outfits.
Lea Michele
Singer, actress and ex-Glee starlet Lea Michele has copped to having a tattoo addiction and has several, mostly of the smaller variety, like these on her foot and the one on her shoulder.
Previous
Next
BEGIN