Photo: instagram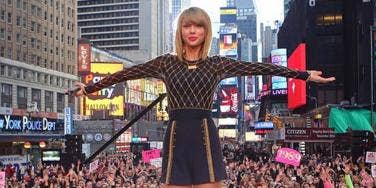 Taylor Swift doesn't always get love right on many levels.
To her dedicated legion of female fans and her pre-teen and teenage admirers, singer/songwriter/music industry savior Taylor Swift is the poet laureate of the iPad generation, a critical authority on love and love gone wrong, as evidenced in and detailed by her songs.
Swift has been involved in many high profile romances — Joe Jonas, Harry Styles, Calvin Harris, and Tom Hiddleston off the top of our heads — that have petered out spectacularly and have found their way into her songs.
Taylor relationship's make it into your social media newsfeeds, onto your television, and into your daily gossip at work. Her relationships aren't exactly a secret, and her fans know all about how she works: with another breakup comes a brand new song about the tortures of love.
---
---
Some may think of her as a "love guru" thanks to her many high profile dates.
But Swift is all of 27 and as far as we know, she has never had a super-long relationship. She is not really the sage or the authority that fans, friends, and detractors think she is. She is not supremely qualified to dispense all-knowing advice because she is still learning herself.
Still, Swift makes some serious bank off her ability to take a love situation, be it real or imagined, and to mine it for song purposes. That is her genius and her greatest skill, even if she isn't always right on or spot on when it comes to her assessment of love.
---
---
While we aren't certain she's experienced any long relationships or legitimate heartbreaks, there really is no denying her music is a good listen. Taylor Swift relationship quotes and the attitude she insinuates makes it all believable, and that's enough for her to earn her title of being a master of relationships.
But while we think she has it all right, she may actually be all wrong on her visions and ideas of what love and relationships truly entail.
Love, crushes, and relationships don't have to be such a bad thing. Don't let pop breakup songs and Taylor Swift's romantic mishaps confuse you; relationships and even tiny crushes can be a fun and exciting experience!
So while Taylor may think she knows all about love, there may be some things she's missing. Here are six times T. Swizzle assessed the notion and concept of love in a tricky or not-altogether-right way.
---
---
Taylor Swift on crushes:
She once directly addressed a fan who was lamenting a crush via social media. Swift compared the crush to unrequited love.
While it was amazing of her to talk to a fan and to offer advice, her assessment of the situation was slightly off in its relating of a crush and unrequited love as the same thing when they really are not.
Taylor Swift on the perfect love:
Swift also once said, "I think the perfection of love is that it's not perfect." Okay, so it's imperfect, no? Meaning it's not perfect at all.
Taylor Swift on basically "never saying never":
"From the girl who said she would never cut her hair or move to New York or find happiness in a world where she is not in love..."
That's how she closes the 1989 foreword. It's eloquent and beautifully written, and it's almost poetic. But there are songs on the album that are love letter-like and they seem to be addressed to exes and to NYC. You can be in love with things other than people, and she clearly knows that but isn't saying it.
Taylor Swift on marriage:
Swift also discussed committed unions, saying, "I'm too young to get married. Not age-wise, but I know myself, so why try to meet someone right now when I know I'm too young to do something serious?"
Wait, so a serious relationship must culminate in marriage? See Hawn, Goldie, and Russell, Kurt.
Taylor Swift on her dating life being news fodder:
Swift told Rolling Stone in a cover story, "I feel like watching my dating life has become a bit of a national pastime. And I'm just not comfortable providing that kind of entertainment anymore. I don't like seeing slide shows of guys I've apparently dated. I don't like giving comedians the opportunity to make jokes about me at awards shows. I don't like it when headlines read 'Careful, Bro, She'll Write a Song About You,' because it trivializes my work. And most of all, I don't like how all these factors add up to build the pressure so high in a new relationship that it gets snuffed out before it even has a chance to start."
Okay, deep breaths in a paper bag. Where to begin on this one?! Swift's dating life has become gossip fodder because she writes songs about her romances and leaves hints about the guys they're about in her liner notes, which she's been doing since the start of her career!
Swift capitalized on her dating life being a PR tool and when it backfired, she got pissed. And that further mention of Tina Fey and Amy Poehler making a joke at her expense, years after the fact? Tay, honey, please, lighten up. As Ducky says in Pretty in Pink: "It's called a sense of humor. You should get one. They're nice."
Taylor Swift on swearing off dating:
"It's not that [I've sworn off dating] as much as I'm just very protective of my happiness. I found a place in my life that feels really great and I'm not willing to compromise that for just anyone, and so, you can paraphrase that all you want into something very extreme, but they make what I say extreme no matter what I say... So I'm really happy about the fact that being single doesn't feel like being alone. I have love in my life, I just don't have a relationship, and that feels really natural right now."
The latter half of this quote is perfectly acceptable. It's the first part that is questionable. She seems to think that dating cannot be equated with happiness when it's the opposite. Dating does cause happiness and happiness with oneself can lead to love through dating.
Previous
Next
BEGIN